Master of
Athletic Training
Advocacy
on the Sidelines
Culver-Stockton College Master of Athletic Training (MAT) program prepares you to become a certified Athletic Trainer (AT). Become a highly qualified, multi-skilled healthcare professional who collaborates with physicians to provide preventative services, emergency care, clinical diagnosis, therapeutic intervention, and rehabilitation of injuries and medical conditions to physically active athletes and patients.
You will utilize a professional approach to demonstrating competence and skills in, as well as commitment to patient/client-centered care, interdisciplinary education & practice, evidence-based practice, information-driven decisions & health care informatics, and quality improvement.
Get Started on Your Path to Success
Certified Athletic Trainers must have a Master of Athletic Training degree to work in their field. Certified athletic trainers specialize in the prevention, evaluation, treatment, rehabilitation and reconditioning of athletic injuries. Along with providing health services to athletes, Athletic Training professionals serve in roles with the military, firefighters and law enforcement and other occupational settings to reduce injuries and provide preventive care.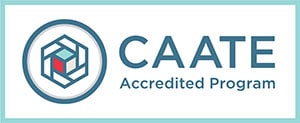 Our innovative blended curriculum utilizes both online coursework and in-person laboratory, simulation, and in-depth clinical education to ensure you become a competent, skilled, and committed Athletic Training professional. The first year of the program is primarily residential on campus while the second year is 100% online. 
Mission of the
Master of Athletic Training Program
The mission of the Culver-Stockton College Master of Athletic Training Program is to professionally prepare students of promise for successful careers and advanced studies in athletic training. The ATP is a supportive learning community that prepares students for a dynamic allied health care market by developing the students' core competence as a health care professional within a CAATE-accredited experiential learning curriculum.
100% of graduates passed the Board of Certification exam over the past five years

Culver-Stockton College was a district qualifier and first-place finisher in 2018, and a top three-place finisher in 2019, 2020, and 2022 for the Missouri Athletic Trainers' Association Quiz Bowl 

100% of graduates have attended an Athletic Training professional conference or participated in public relations and professional advocacy events at the state, district, or national level 

Students have a myriad of clinical education opportunities in NCAA and NAIA Division I & II athletics, high school athletics, hospital/clinics, and industrial/corporate settings 
Students have access to a designated, state-of-the-art, Health Sciences laboratory, and simulator center for the advancement of their knowledge and clinical skills
Recent graduates have secured positions in the National Women's Soccer League, one as a Director of Rehabilitation, and one as a Head Athletic Trainer 
Master of Athletic Training students will utilize a professional approach to demonstrating competence and skill in, as well as commitment to:
Patient/Client-Centered Care
Interdisciplinary Education & Practice
Evidence-Based Practice
Information-Driven Decisions & Health Care Informatics
Quality Improvement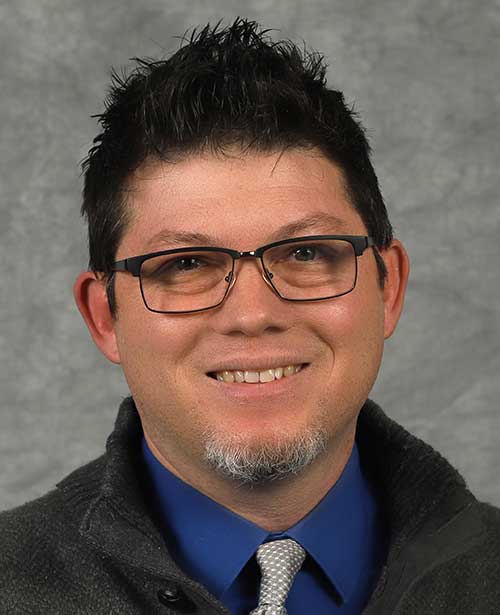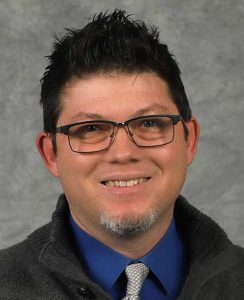 Dr. Jay Hoffman
Athletic Training Program Director
Dr. Hoffman came to Culver-Stockton College in 2008 and assumed the duties of Department Chair and Athletic Training Program Director in 2015, as well as Associate Dean of Graduate & Professional Studies in 2021. He has over 20 years of experience in athletic training education and was recognized as the Mid-America Athletic Trainers' Association (MAATA) Educator of the Year in 2021. Dr. Hoffman has a commitment to service leadership in the field of athletic training. He spent nine years on the MAATA Board of Directors and has served as a Commission on Accreditation of Athletic Training Education Program Reviewer since 2007.  Dr. Hoffman currently serves as the Secretary of the Missouri Athletic Trainers' Association and was recently elected President-Elect. In June 2022, he received the National Athletic Trainers' Association Service Award for outstanding contributions to the profession.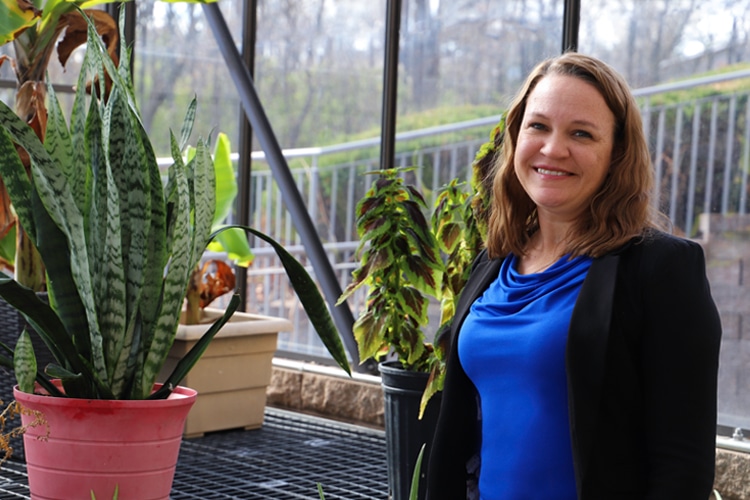 Dr. Christe Thomas
Athletic Training Coordinator for Clinical Education
Dr. Christe Thomas began her tenure at Culver-Stockton College in August 2002 in a dual-role position as an Athletic Trainer and Instructor. Since 2008 she has assumed the duties of Coordinator for Clinical Education for the Athletic Training Program and moved to full-time teaching in 2014. In 2019 she began service as the Associate Division Chair for the Applied Liberal Arts and Sciences Division for the college. Dr. Thomas has received several teaching awards including the 2015 Helsabeck Prize for Excellence in Teaching given by the college. In May of 2021, Dr. Thomas was awarded Blue Apple Award for Excellence in Teaching given by the students of Culver-Stockton College. She is also certified by the Experiential Education Academy and holds certifications in Graston Technique and Kinesiotaping.


Career Outlook
The Possibilities are Endless
Upon completion of your master's degree and board of certification exam, you are eligible for employment as an athletic trainer. Some of the typical job responsibilities include:
Educating athletes and coaches about the risk of athletic participation 
Injury prevention
Applying preventative and therapeutic devices like braces and athletic tape 
Treating injuries and developing rehabilitation plans for injured athletes physicians, and medical support staff
Students who complete an athletic training master's degree program generally do so with the goal of working in a sports medicine setting with sports teams from elementary, middle, and high schools to colleges and universities.  And there are career opportunities at the professional level in every type of sport, including baseball, football, and basketball. Sports teams are not the only groups in need of athletic trainers. Performing arts companies hire athletic trainers to take care of their performers. Other career opportunities for athletic trainers exist in military branches, firefighting, law enforcement. 
Program
Curriculum (56 Credit Hours)
Take the next step towards your
Master of Athletic Training Degree
Take the next step in your journey at Culver-Stockton College. We're here to help you get started on your degree. 
C-SC students can complete a Free Application for Federal Student Aid (FAFSA) to determine eligibility for unsubsidized loans. Apply for Federal Aid, visit FAFSA.gov.
Interest-free payment options also are available through the college. Call 573-288-6492 for more information.
15%
Alumni discount available to all Culver-Stockton graduates
*Only one discount may be applied.
EDUCATIONAL PARTNERS
---
The following institutions receive a 10% tuition discount in our Master of Athletic Training Program:
Cornell College, Evangel University, Graceland University, Hannibal-LaGrange University, Illinois College, Iowa Wesleyan University, Missouri Valley College, Northwest Missouri State University, Southwest Baptist University, Westminster College, William Penn University, and William Woods University.
We Chose C-SC.
Here's Why.
Tom Greene, MAT '21
When I became interested in the Masters in Athletic Training, I met with Dr. Jay Hoffman who immediately assured me that I could succeed in the program. He has been great throughout my time, supporting me from my first visit through graduation. It's been a great experience. This was the place and the degree for me!
Your Academic
Success Team
You're never alone in your education. Learn more about the people who are here to help you take the next step in your career.
After you express interest in our programs, our trained admission counselor
is ready to help you through the application process. Get guidance about admissions, transcripts, transfer credits, and more.
Once you're accepted, our dedicated online advisor helps apply your past educational experiences to our program and creates a unique plan of study just for you, giving you the confidence so that you register for the right classes on your academic journey. Your online advisor will help you stay on track. Our online advisor builds a personal connection with every student, meaning that you'll always have a teammate looking out for you.
C-SC students can complete a Free Application for Federal Student Aid (FAFSA) to determine eligibility for unsubsidized loans. apply for federal aid, visit FAFSA.gov. Institutional aid is not available, but please inquire about graduate assistantship opportunities. Interest-free payment options also are available through the college.