It's what you have been waiting for…
you know you've said it out loud and in your head hundreds of times…
I CAN'T WAIT TO BE AN ADULT! Well it's here. It's time to start making your first really big adult decision. 
What College
Am I going to Attend?
We've been in the college business for while (like more than 160 years) so we've had the opportunity to talk to tens of thousands of students about what is important in making their college decision. We want to share a checklist as you begin the process of making this big decision.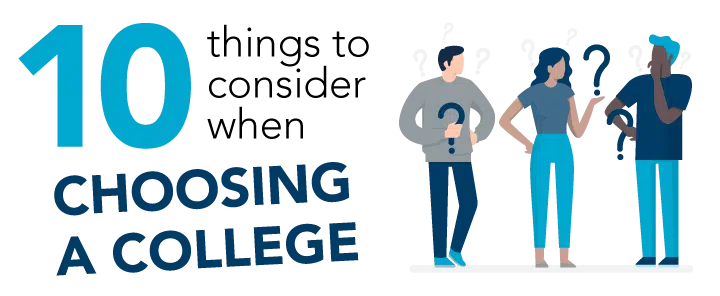 College Decision
Checklist
#1
Obviously, the first thing you want to know is whether you can study what you want to study. So ask these questions. 
#2
Next, make sure you are going to be taught in the best way possible. Check to see if you are being taught by full-time faculty and not graduate assistants.
#3
Find out what the classes are like. Does the college offer you experiential opportunities (I know that's a college buzz word everyone uses), so specifically, will you get to do hands-on research, participate in internships, complete meaningful service learning, and learn outside the classroom with real travel opportunities?
#4
Technology is probably in your hands most of your waking hours (at least outside of your classes). What does the college say about its technology? 
#5
You also want to know about the college environment. Ask what the faculty to student ratio is and make sure that if you thrive in smaller classes, that's what you find. 
#6
Campus size matters. Are you comfortable in a large university or looking for a smaller college where everyone will know you? Some colleges will talk about small class sizes, but the feel of the campus is BIG. What size feels best to you?
#7
There's more to college than sitting in classes so find out about the rest of the opportunities. Check to see if you can join clubs and have leadership opportunities. What else are you interested in on campus? Do you want to play athletics or participate in Intramurals or even just watch sporting events? Do you enjoy going to plays, instrumental and vocal concerts? Does seeing a comedian or a hypnotist show on Friday sound fun? If you answer is yes to any of those questions, make sure they are available (and hopefully free)!
#8
Check out the college's opportunities for you as a student whether you are a resident or a commuter. Is the residential housing new or renovated and up-to-date? Is the campus in a safe area? This is really about the vibe so look at the pictures and later schedule a visit so you can see if the campus feels right for you.
#9
The cost of college is a great big important question for everyone. Be sure to ask questions beyond the sticker price. It's not like buying a car, but still, you need to ask about what financial aid is available. Ask questions about your specific situation!
#10
Keep the end in mind. When those four fun years are over, you need to be able to move to the next step, whether that is starting a career or entering graduate school. 
So what advice
would we give you?
It really is time to get started. Don't procrastinate as college classes fill and opportunities for financial aid are best the earlier you apply.
Work to narrow your list of colleges so you can dive deep into your best options.
Ask a ton of questions. You deserve answers.
Go visit. We already mentioned this, but really you don't know how the college feels until you see it for yourself.
Have fun with this process – you will never be more popular with everyone inviting you over!