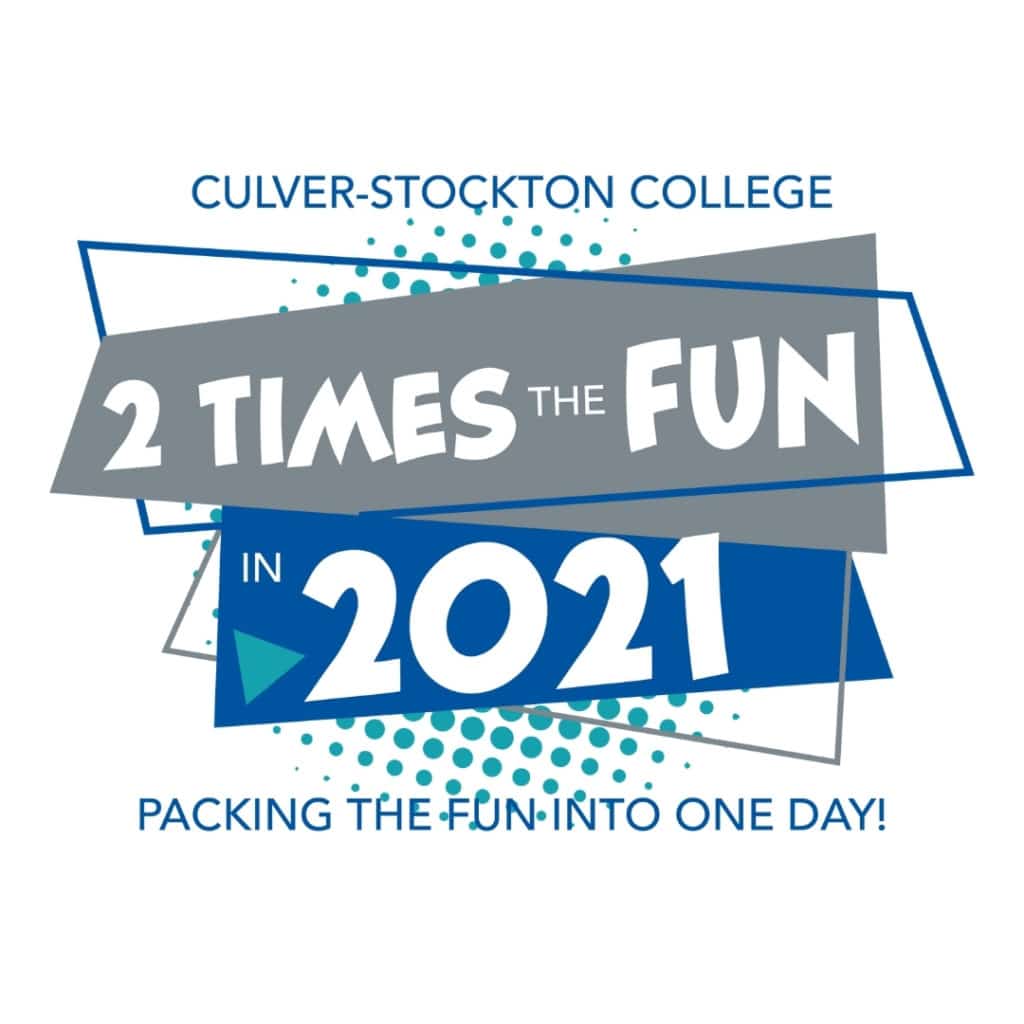 Homecoming 2021
September 25, 2021
HOMECOMING SCHEDULE CHANGE! Due to the surge of COVID-19 cases in the area, Culver-Stockton College is taking precautions on behalf of our students, alumni, faculty, staff, and community by packing the fun of Homecoming into a ONE DAY outdoor celebration here on "the Hill!"
We are looking forward to celebrating with you on Saturday, September 25th!  Some of our events have been moved to spring to allow for the full program traditions to remain in place. Please see the updated schedule for the full outline of events on September 25th. 
Mark your calendar and plan to join us as we come together to celebrate two years of fun in one day at C-SC Homecoming! Expect twice the Culver-Stockton pride as we make up for lost time and reconnect with friends, family, and fellow Wildcats. 
EVENTS RESCHEDULED TO SPRING 2022:
Scholarship Luncheon
Alumni Honors Banquet
IDEA Center Dedication
Two Times the Fun in 2021 - Packing the Fun into One Day 
Featuring Alumni Reunions for Football, ATO 50th Anniversary, Theatre and History Majors/Minors and Friends
Class Years: '60, '61, '70, '71, '80, '81, '90, '91, '95, '96, '00, '01, '10 and '11
Click here to register for Homecoming 2021.
*Schedule Subject to Change
Thursday, September 23
Scholarship Luncheon - Event Moved to Spring 2022
Friday, September 24
C-SC Alumni and Friends Golf Outing
**Reservations need to be made with Spring Lake Country Club 217-222-5250** 
9:30 a.m. - Registration
10:30 a.m. - Shotgun start
Spring Lake Country Club
5215 Clubhouse Dr 
Quincy, IL 62305
Cost before September 10th: $70 per person
Reservations made after September 10th are $95.
*Green fees, golf cart and box lunch are provided.
I.D.E.A. Center Dedication - Event Moved to Spring 2022
5 p.m. - Women's Soccer Game
Ellison Poulton Stadium
7:30 p.m. - Men's Soccer Game
Ellison Poulton Stadium
Alumni Honors Banquet - Event Moved to Spring 2022
Saturday, September 25
8 a.m. - 10 a.m. - Homecoming Weekend Headquarters
Alumni Office, Henderson Hall
8 a.m. - Leadership Breakfast (by invitation)
Hosted by President and Mrs. Douglas B. Palmer
8:30 - 9 a.m. - Football Alumni Doughnuts and Brew (registered Football Alumni)
Homecoming Headquarters - Outside of Henderson Hall
Pick-up your Letterman's Pass and enjoy doughnuts and coffee to fuel up for your parade debut
9:30 a.m. - Homecoming Parade (featuring The Pride of Culver-Stockton Marching Band)
Downtown Canton
Watch local marching bands compete, wave to Parade Marshal President Douglas Palmer and his family and enjoy parade entries
Click here to watch the parade
10 a.m. - Alumni Baseball Game
Nichols Field
Watch alumni baseball players put on their cleats and grab their gloves to take the field once again
10 a.m. - Alumni Softball Game
Himsl Softball Field
Come enjoy the Lady Wildcats past and present scrimmage and an alumni home run derby
11 a.m. - 20 In 20 Campaign
Tent south of the J.E. & L.E. Mabee Recreation Health & Wellness Center in the grassy area 
Networking event for alumni from the classes of 2009-2019 who made a gift during the 2019-2020 fiscal year
11 a.m. - Blue and White Tailgate ($10)
Tent south of the J.E. & L.E. Mabee Recreation Health & Wellness Center in the grassy area 
Mix and mingle with fellow Wildcat alumni and enjoy a BBQ lunch. BYOB. Bottled water will be provided.   
11 a.m. - History Reunion Lunch ($15)
Tent north of The Pillars (The President's Home - 101 S. 9th St.)
11 a.m. - Alpha Xi Delta Gathering
Alpha Xi Delta Plaza
11:30 a.m. - Top of the Hill Luncheon*
Tent on the grassy area south of Henderson Hall (The Quad) 
Join us in inducting the Class of 1970 and 1971 into the Top of the Hill Society and celebrate the reunion years of 1960 & 1961
*Inductees & Previous Inductees Complimentary, non-members $20
11 a.m. - 12 p.m. - Stop by and Wish Professor Cosgrove Well
Table at the Blue & White Tailgate
11 a.m. - 12 p.m. - High School Band Awards Ceremony
Alexander Campbell Auditorium, Performing Arts Center
Please no parking in the circle drive in front of the auditorium, school buses will be loading and unloading students.
11 a.m. - 1p.m. - Homecoming Lunch Options on "the Hill"
Dining Hall, Gladys Crown Center opens at 11 a.m. - 1 p.m.
The CP - Cat's Pause (lower level of Gladys Crown Student Center opens at 10 a.m.)
Athletic Concessions in Ellison Poulton Stadium
Cancelled - Big Cat-Little Cat Legacy Land

1 p.m. - Football Game
Ellison Poulton Stadium
Culver-Stockton College vs. Central Methodist University
To purchase your tickets to upcoming athletic games, including Homecoming soccer and football games please click the link below. 
www.cscwildcats.com/tickets
Homecoming Court Coronation - Half-time of the Football Game
12 p.m. - 7 p.m. - Art Gallery Exhibit
Mabee Art Gallery, Herrick Foundation Center
View the works of alumnus Kyle Darnell '10. There will be a reception and the artist will speak about his work at 6 p.m. outside of the Herrick Foundation Center.
3 - 5 p.m. - Punt, Pass and Kick Competition
Soccer practice field behind the fraternity houses
All ages welcome
Sign up here
5 p.m. - Fine Arts Picnic ($10)
East Shelter House, Martin Park
6 p.m. - ATO 50th Anniversary Celebration
Tent south of the J. E. and L.E. Mabee Recreation and Wellness Center in the grassy area
7:30 p.m. - Theatre Reunion Play - Noises Off by Michael Frayn
Alexander Campbell Auditorium, Robert W. Brown Performing Arts Center
Outdoor alumni reception following the play
Sunday, September 26
Memorial Service
Virtual
Please email alumni@culver.edu to receive a link to watch the service. 
Join us for the 2021 Two Times the Fun Homecoming Parade!
The parade will be held in downtown Canton on Saturday, September 25 and is slated to begin at 9:30 a.m. For those individuals and businesses who would like to submit an entry for the parade, please click the link below and fill out the registration form before 5 p.m. on September 10 to ensure we are able to send all necessary details to you regarding parade lineup and preparation well in advance.
The Class of 1983 won the Battle of the Grad Years: Alumni Giving Challenge on the Day of Giving and will have access to an exclusive VIP viewing area at the parade. More details will be emailed to those alumni from the Class of 1983 who RSVP for Homecoming as we get closer to the event.
If you have any questions regarding the parade or registration, please call Missy Dubuque '88 in the Office of Advancement & Alumni Programs at 800-755-2287.
Click here to submit an entry for the parade.
Before registering for entry into the parade, please familiarize yourself with the rules:
Riding on top or outside of vehicles without safety belts, truck beds or rails is prohibited. Do not cling to or ride on the outside of vehicles. Trailers of semi-trucks are okay to sit on.
All drivers of floats or vehicles shall possess a valid driver's license. The vehicle used in the parade to transport individuals must be insured.
Please, no throwing candy, confetti or other items from floats. This is very dangerous. We do, however, encourage walking along the sides of floats and handing out candy and toys! THIS RULE WILL BE STRICTLY ENFORCED!
Participants riding any type of motorcycle, 4-wheeler or bike are required to wear the proper helmets once they leave the parade route. Helmets are not required along our route; however, you are required to wear them once you have completed the parade.
No discharging of firearms allowed.
Alcoholic beverages are forbidden on any float or vehicle or on the person of any participant. Entries will be taken out of the lineup during the parade if there is obvious disregard for this rule, and invitation may be withheld in the following year.
Disregard of the rules will be cause for ejection from the parade formation and possible denial of future parade participation.
Show your Wildcat Pride during Homecoming by purchasing a 2021 "Two Times the Fun in 2021" t-shirt before arriving for the festivities. Order your shirt today by clicking this link!
Culver-Stockton College Homecoming 2021
Make your reservations early!
September 24-26
When making a reservation, be sure to indicate you are with Culver-Stockton College to receive a discounted rate if applicable. In most cases, room blocks expire 30 days prior to the event.
Room blocks are available at the following hotels:
Quality Inn & Suites, 225 S. 4th Street, Quincy, IL 62301, 217-224-8378
Quincy Fairfield Inn & Suites, 4415 Broadway, Quincy, IL 62305, 217-223-5922
Quality Inn & Suites, 120 Lindsey Drive, Hannibal, MO 63401, 573-221-4001
Hampton Inn, 3201 Main Street, Keokuk, IA 52632, 319-524-6700 (Press 0 to speak with the hotel directly) 
Limited rooms available, no discounts or packages offered:

Oak Hills Inn and Suites, 1701 Oak Street, Canton, MO 63435, 573-288-8800.
Comfort Inn, 4122 Broadway St., Quincy, IL 62305, 217-228-2700
Quincy Inn, 224 N 36th St, Quincy, IL 62301, 217-228-8808
Sleep Inn & Suites, 105 Lakeside Drive, Hannibal, MO 63401, 573-221-1500
Holiday Inn Express & Suites Hannibal, 120 Shinn Lane, Hannibal, MO 63401, 573-248-3000
Local campgrounds, no discounts or packages offered:
Lazy Dayz Campground, 19430 State Hwy P, Canton, MO, 573-822-7070
Riverfront Camping, Canton, MO, 573-288-4413 (Canton City Hall)
Wakonda State Park, 32836 State Park Road, La Grange, MO, 573-655-2280
This is the eighth year the tailgating experience will be offered on campus during Culver-Stockton College events. By following the College tailgating policy and ensuring individual and public safety, we hope all of our alumni, Wildcat fans and friends enjoy the experience! Please remember to be respectful and use good judgment while tailgating at Culver-Stockton College. Currently, students and student organizations are not able to obtain a tailgating spot, but they are allowed in the tailgating area with friends or family. Individuals are no longer required to reserve a spot ahead of time. Instead, spots will be available in the area on a first come, first serve basis. You must review and agree to all guidelines listed in the tailgating policy or you may be asked to leave the tailgating area by security. Remember spots are available on a first come, first serve basis.