Where Creativity Meets
Passion!
Creativity is one of the most sought-after skills in the workforce today. Art strengthens your manual dexterity, your mental acuity, it reduces stress and provides a lifetime of enjoyment to yourself and others. Many artists are making a good living creating, exhibiting, and selling their art. Through art, you will learn to express yourself, communicate with others, and to better understand the people and world around you.
If art and artistic expression are your passion, you're in the right place! We don't just teach art here at Culver-Stockton, we experience it! Use your imagination to craft unforgettable pieces to show on campus or area art shows.
You'll have the opportunity to join an International Collegiate Art Honors Society, along with an active art club, Mosaic. You will show your work in the college gallery and local, regional and national juried shows. Many of our students win awards and go on to become successful artists or continue on to graduate school.
Don't miss out on our Arts Abroad course that travels to Europe every two years to further build on your studies. Each senior participates in a senior capstone show that focuses on a unified body of work. Your instructors are award-winning, exhibiting artists who are eager to teach you the media, methods and skills to elevate your artistic career.
What can I do with an
Art Degree?
Art Centers
Gallery Work
Public Relations Firms
Advertising Corporation
Art Critique
Media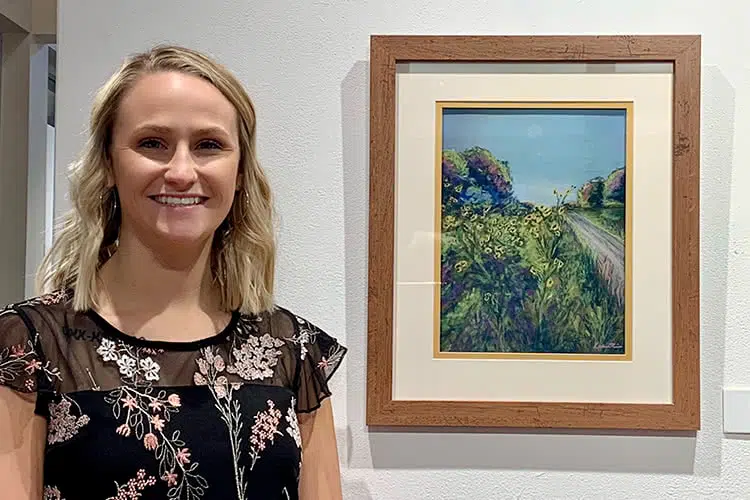 Keelie O'Brien '21, an art education major from Kahoka, MO won Best in Show at the Intercollegiate 2021 Show. Her pastel piece is titled Blooming Beauty.
Visit regional art galleries and museums
Assist in our preparing shows of well-known artists in our on-campus art gallery
Mosaic – photography, design and art club
AIGA student art group
Exploratory and professional internships
Travel Study courses to study the Arts in Europe
Presenting your own gallery of work
Begin selling your own artwork as an undergraduate
Information About
Our Minors
Majors in marketing, digital marketing, communications, public relations, web design and creative writing often choose to minor in Art.