Advocacy
on the Sidelines
Culver-Stockton College Master of Athletic Training (MAT) program prepares students to become certified Athletic Trainers (ATs). ATs are highly qualified, multi-skilled health care professionals who collaborate with physicians to provide preventative services, emergency care, clinical diagnosis, therapeutic intervention and rehabilitation of injuries and medical conditions to physically active athletes and patients.
This innovative curriculum utilizes both online coursework and face-to-face laboratory, simulation, and clinical education to produce competent, skilled, and committed AT professionals. This two-year, 56 credit hour program allows for flexibility and one-of-a-kind professional experiences. Students can apply as a Traditional Track admit after completing their Bachelor's degree from an accredited institution. Highly motivated high school and undergraduate students can also apply for the Accelerated (3+2) Track, allowing students to complete both their Bachelor's degree in Health Science and the MAT in 5 years.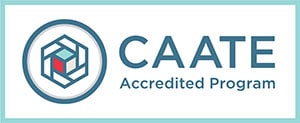 Culver-Stockton College is currently accredited by the Commission on Accreditation of Athletic Training Education (CAATE), 6850 Austin Center Blvd., Suite 100, Austin, TX 78731-3101.
Student Learning Goals and Outcomes
MAT students will utilize a professional approach to demonstrating competence and skill in, as well as commitment to:
Patient/Client-Centered Care
Interdisciplinary Education & Practice
Evidence-Based Practice
Information-Driven Decisions & Health Care Informatics
Quality Improvement
Program Outcomes
CAATE Program Information and Outcomes Page
Program Policies
95% of graduates passed the Board of Certification exam on their first attempt over the past five years.
C-SC was a district qualifier and top place finisher in 2018, 2019 and 2020 for the Missouri Athletic Trainers' Association Quiz Bowl
100% of AT student have earned Graston Technique, Kinesio Tape, Personal Training, CPR/AED, and/or Psychological First Aid certification while completing their AT degree
100% of graduates have attended an AT professional conference, or participated in public relations and professional advocacy events at the state, district, or national levels
The AT Program was Top 20 nationally and recognized as Honorable Mention for "Best Student Effort" in the National Athletic Trainers' Association 2017 Public Relations Contest
Students have a plethora of clinical education opportunities in NCAA and NAIA Division I & II athletics, High School athletics, Hospital/Clinics, and Industrial/Corporate settings
Students will have access to a designated, state of the art, Health Sciences laboratory, and simulator center for the advancement of their knowledge and clinical skills
Program Cost
& Financial Aid
15%
Alumni discount available to all Culver-Stockton graduates
Only one discount may be applied.
C-SC students can complete a Free Application for Federal Student Aid (FAFSA) to determine eligibility for unsubsidized loans. Apply for Federal Aid, visit FAFSA.gov.
Interest-free payment options also are available through the college. Call 573-288-6492 for more information.