Distinguished alumni, donors, staff and faculty will be recognized during the Alumni Honors Banquet at 5:15 p.m. Friday, Oct. 18 in the Dining Hall at the Gladys Crown Student Center on the Culver-Stockton College campus.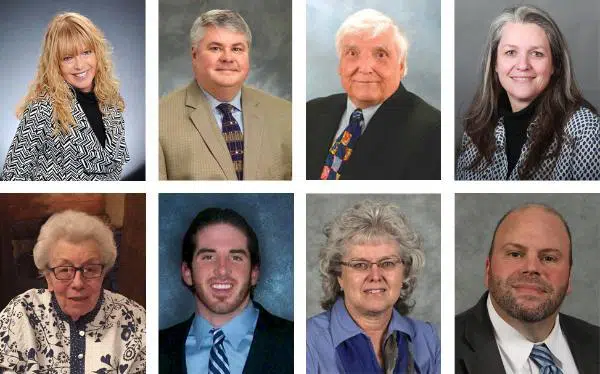 CANTON, Mo. — Distinguished alumni, donors, staff and faculty will be recognized during the Alumni Honors Banquet at 5:15 p.m. Friday, Oct. 18 in the Dining Hall at the Gladys Crown Student Center on the Culver-Stockton College campus.
Bill Sheehan, vice president for advancement and alumni programs, will welcome the guests to start the banquet. C-SC president Kelly M. Thompson will follow with remarks before the presentation of honorees.
Susan (Frazier) Goderstad '81, Todd Goderstad '83 and Blair Stanicek '62 will receive the Distinguished Alumni Award.
Todd Goderstad received a bachelor's degree in history and political science from C-SC in 1983 and earned his Juris Doctorate from the William Mitchell College of Law in 1990. He now is the executive vice president and general counsel for Ames Construction in Burnsville, Minn. He is the chief legal officer for one of the largest heavy civil, transportation and industrial design-build general contractors in the United States.
Susan Goderstad, who received a bachelor's degree in business and economics from Culver-Stockton in 1981, is the president of Fiscally Secure, LLC, in Apple Valley, Minn., which provides personal financial assistance to clients who have difficulty with or lack the time needed for monetary affairs. Before starting her business, she was the vice president of finance for 32 years at Builders Development and Finance in Wayzata, Minn.
The Goderstads live in Apple Valley, Minn.
Stanicek, a native of Hinsdale, Ill., was a fullback on the football team for two seasons and was the rush chairman of the Sigma Phi Epsilon fraternity, graduating from Culver-Stockton in 1962. He eventually went on to a 25-year career in sales with Medtronic plc, the world's largest medical device company. He attributes much of his work ethic to the mentorship given by W.A. (Bill) Herington, who coached multiple sports along with being a physical education professor and the athletic director at Culver-Stockton from 1938-65.
When he retired from Medtronic plc, Stanicek and his wife, Arlene, wanted to give back to Culver-Stockton. They chose to establish the Blair and Arlene Stanicek Endowed Scholarship, which is awarded to physical education majors on campus. Stanicek now loves in Greenville, S.C.
Stacy (Stout) Raith '83 will receive the Alumni Leadership and Service Award. Raith graduated in 1983 from Culver-Stockton with a bachelor's degree in music education, and she is a member of the Culver-Stockton College Board of Trustees and the presidential search committee.
Raith and her husband, Peter, have been married for 36 years. They recently moved to Hannibal, Mo., after spending many years in the Olathe, Kan., area. They are long-time athletics boosters, whether they're cheering in the stands, playing host to students or simply helping on "the Hill," but they may be best known for the meals they would provide C-SC teams when they played teams around Kansas City. They were named the Community Members of the Year during the All-Sports Award Banquet in May 2019.
Bette Dancey Godard will receive the Honorary Wildcat Award. Godard is an advocate for supporting and encouraging first generation students in receiving a college education.
Russell Dancey, Mrs. Godard's father, was on the board of trustees of Adrian College in Adrian, Mich., where Robert W. Brown served as vice president of development. When Brown became president of Culver-Stockton College, Dancey continued his relationship with Brown and established an endowed scholarship at Culver-Stockton in 1982 that has been given to nearly 500 students at C-SC who exemplify Christian morals.
Mrs. Godard initiated the R.V. Dancey Scholarship in memory of her father. She also provided funding in 2016 to name the new residence hall at Culver-Stockton College in honor of Brown, her long-time friend, and his wife Carolyn.
This year's Outstanding Young Alumnus is Michael Sweeney '10 of Downers Grove, Ill. He is a senior assistant public defender in DuPage County in the Chicago suburbs. Most of his clients have been exposed to lifelong abuse and bullying, as well as mental illness, and they can't afford legal representation. He graduated from Culver-Stockton College in 2010 with a bachelor's degree in criminal justice and a minor in history. He earned his Juris Doctorate from the University of Detroit Mercy School of Law in 2013. He was recognized as one of the Top 40 Under 40 by the American Association of Attorneys in April 2018.
Receiving the Dome Award, which recognizes C-SC employees who have played an important role in the advancement of the College, are Scott Giltner and Marjorie (Woodard) Ellison.
Giltner, who lives in Quincy, Ill., is a professor of history at Culver-Stockton, joining the faculty in 2005. He received the Helsabeck Prize for Excellence in Teaching in 2014 and one of the three inaugural Blue Apple Awards for Excellence in Teaching presented by the Student Teacher Organization in 2019.
He is active in travel study, co-leading the biennial Belize and Guatemala expedition that has taken more than 120 students through the rainforests, reefs and ruins of Central America. Giltner, a native of Hartford, Ohio, graduated from Hiram College in 1996 with a degree in history, then earned his master's in 1998 and his doctorate in 2005 from the University of Pittsburgh.
Ellison, who lives near Monticello, Mo., took night classes at Culver-Stockton for eight years, starting in 1982. She took a class with Terry Sherer, the registrar at C-SC at the time, and he mentioned a job opening in his office. She started working at C-SC in 1986 and was an assistant in that office until she was named the registrar in 2001.
She earned her bachelor's degree in business administration from Culver-Stockton in 1990. Ellison joined the alumni and advancement office in 2008 as the director of advancement operations. Her title is now senior director of advancement and alumni. She received the President's Award for Exemplary Service to the College and Community in 2012.
###
Contact Alyssa Hummel, Director of Communications and Marketing, at ahummel@culver.edu or 573-288-6000 ext. 6450 for more information.
NOTE: A number that appears immediately after a person's name (i.e. Jane Doe '18) is a reference to the year that person earned their bachelor's degree from Culver-Stockton.