How has Culver-Stockton College faculty adapted to educating students during the COVID-19 pandemic? To discover that answer, one should start with the college's mission statement.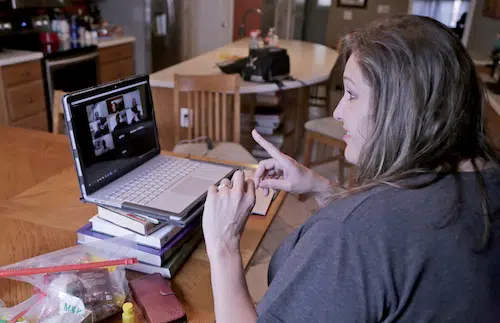 Dr. Angel Knoverek '93 talks to her students while teaching her Interventions for Childhood Trauma course from her kitchen in her Quincy, Ill., home.
How has Culver-Stockton College faculty adapted to educating students during the COVID-19 pandemic? To discover that answer, one should start with the college's mission statement.
"The mission of Culver-Stockton College is to prepare students of promise for a dynamic world through our distinctive experiential curriculum within a supportive learning community founded upon the best values of faith and the human spirit."
Has there ever been a more dynamic time than what has happened in our world since March?
Culver-Stockton educators had to create online courses and discover course materials in the middle of the semester with little advance warning — all the while, staying true to the mission statement to incorporate experiential learning.
Dr. Lauren Schellenberger, vice president of academic affairs and the dean of the college, said the faculty was better poised to make the transition to online learning than many others across the country.
"A lot of the training we've done in the past was done with regard to instructional technology, and our faculty is just known for innovation in general," she said. "The online transition has gone as well as it possibly could have, which is a testament to our faculty's creativity and their flexibility and their willingness to try new things."
Two professors had to adjust to particularly challenging circumstances.
Dealing with Childhood Trauma
The Interventions for Childhood Trauma course, held each spring during the 3-week portion of the semester and taught by Dr. Angel Knoverek '93, calls for students to learn how to do hands-on therapeutic activities as they understand the impact that trauma can have on children and adolescents.
"We work with a child's ability to manage their emotional and behavioral state," Knoverek said. "For instance, most kids know when they walk into a church or a library that they should lower their voice, but if you're on the playground or outside, you can scream and yell and holler. Most kids who've had extreme trauma, or even moderate to severe, are not able to regulate that."
Knoverek's students typically end the class by working with groups of children at the Early Childhood and Family Center in Quincy, Ill. The pandemic eliminated trips to the ECFC, so Knoverek had to devise an alternative method for her students to learn the activities.
She conducted class using Zoom, an online video conferencing app, and also created a Facebook page for the students. She also called on volunteers from the C-SC faculty and staff to help. The volunteers took video of themselves trying to direct their children in a variety of activities, and the students made observations of the directions given by the volunteers and assessed how the children responded.
Knoverek also did some role playing, taking videos while showing examples of how to blow bubbles, spit Tic-Tacs, shoot air through a straw to direct a cotton ball across a table or simply dance. Finally, Knoverek's students had to create their own activities with children — or, if children weren't available, an activity one could demonstrate by themselves.
"Children who are normally developed, (these activities are) probably just going to be fun for them," Knoverek said. "It teaches pro social behaviors like following instructions, asking permission, waiting patiently, relationships, trusting others, sharing, things like that. We know that kids have always learned better through these types of fun games and activities.
"However, with kids who have these traumatic experiences, we often see issues with mood instability, depression, a lot of anxiousness if not a full anxiety disorder, irritability, huge anger outbursts. You might have a 16-year-old kid flipping their desk over and cursing at you when they go out the door. We have to help this kid understand and try to get to the root of it. There's always a reason, always a trigger, but it takes a child a while to find that."
Madison Galloway, a senior psychology major from Mount Sterling, Ill., said she was skeptical before the class began as to how the students would practice interventions, but she was confident Knoverek would figure it out.
"It's been pretty effective," said Galloway, who is applying for graduate school and wants to pursue a career working with children. "It's a little different, and we don't have to deal with the nerves like we would when we go into a regular classroom setting for the first time, but we're making it work. We're getting something out of it."
Knoverek admits she won't know how effective the online version of the class was until her students try to use the skills they learned in a job setting, but she was satisfied with how it turned out.
"There's no way I can create and have the same experiences my class did last year," she said. "But my class this year is learning and doing things differently than my other classes haven't been able to. I've had to learn to do some things differently. I think we're comparing apples to oranges."
From London to board games
Most of the students in Alissa Burger's Arts Abroad class had been preparing and planning, at least a year in most cases, for a trip to London during which they would participate in music, theatre, literary tours, museum trips and a Harry Potter experience.
When the decision to cancel the trip was made, Burger hoped that the students would remain on campus for the 3-week portion of the semester. She designed a class on literary gaming, applying literary elements (plot, characterization, setting, etc.) to a range of different gaming mediums, with a focus on board games. She looked forward to playing the games and discussing them with the students.
"I was sitting at home trying to figure out what the heck I was gonna do, and in our living room,  we had stacks and stacks of board games that we had out playing," she said. "It was just a matter of working with what's at hand."
When all classes were moved online for the rest of the semester in March, Burger had to adapt again.
"The first change was a complete scrap. The second change was more of a pivot," she said.
She added "Sherlock Holmes" mystery puzzles, online games (such as a "Scooby Doo" game and an "Oregon Trail" game) and "Choose Your Own Adventure" narratives, to the mix with board games. Interactive gaming elements, including virtual board game sessions, were implemented for each of the games.
She made videos for each of the major games that presented the information like it would have been done in class discussion. Students engaged with Burger and their peers and dug into the material in detail on discussion boards, and then the class had live virtual game sessions.
"There's really just no way to replicate that being together and playing a board game," she said. "What we're doing works, but it's not nearly as fun as being in the same room, interacting with one another and strategizing. However, it's still working really well because we have lots of discussion boards that sort of mimic those that we would have had in class conversations."
Students completed creative projects like writing their own "Choose Your Own Adventure" narratives or creating their own board game characters to go along with the class discussion of "Mixtape Massacre," a mash-up board game inspired by slasher films of the 1980s and 1990s. Their final project was to either host their own virtual game session, design their own game or write a critical analysis of a game that the class had not played.
In spite of all the changes to what the class could have been, what surprised Burger the most was the attitude of the students.
"These students had every right to be disappointed. They could have been saying to themselves, 'I was supposed to be going to London right now, and I didn't get to go,'" Burger said. "Instead, they're not really dwelling on it. They're just embracing that this is a different opportunity, and several of them have gone out of their way to say, 'I know it's not London, but I'm having a really good time' or 'This class is really interesting.'
"I have a class full of 19-and-20-year-olds who just missed out on an amazing trip they've been looking forward to for two years, and they're just so positive. They're amazing. That's phenomenal."
Contact Alyssa Hummel, Director of Communications and Marketing, at ahummel@culver.edu or 573-288-6000 ext. 6450 for more information.
NOTE: A number that appears immediately after a person's name (i.e. Jane Doe '18) is a reference to the year that person earned their bachelor's degree from Culver-Stockton.