Spring has come and there is music in the air, as Culver-Stockton College's Department of Music presents an open-air choral concert on Saturday, April 24 at 5 p.m. in the courtyard outside the entrance to Robert W. Brown Performing Arts Center.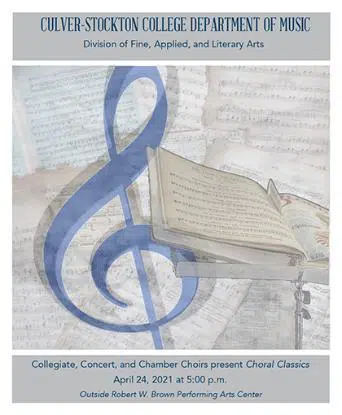 Collegiate, Concert and Chamber Choir singers have shared live streams of their concerts during this time of social distancing, but are thrilled to welcome a limited live audience for the first time this academic year. While in-person viewing is by invitation only, the concert is available for live streaming on the C-SC fine arts YouTube channel: https://www.youtube.com/channel/UCwIMsla3RgPXw6duaQOo0_Q
The concert is titled Choral Classics, but 2021 is also a year for Pops at C-SC. The choirs, all directed by Dr. Scott Allison, assistant professor of music, will be accompanied by Dr. Dylan Marney, associate professor of music. The concert will highlight popular music in a repertoire mix that ranges from Josquin to jazz. Beethoven's glorious Hallelujah from Mount of Olives pairs delightfully with a vocal arrangement of Symphony #5's opening theme titled Beethoven's A Cappella 5th. Traditional and modern settings of the hymn When Jesus Wept by William Billings and Gwyneth Walker show the power of text to move the soul in compositions old or new. The contemporary setting of the spiritual This Little Light of Mine contrasts with Michael R. Hick's arrangement of the grand stalwart Finlandia in a hymn setting titled Be Still, My Soul. A highlight of the concert will be the African prayer Indodana, which the Collegiate Choir studied and practiced in a virtual seminar with Dr. Allyss Haecker, who has sung it with her choirs for Bishop Desmond Tutu in his home parish.
Contact Alyssa Hummel, Director of Communications and Marketing, at ahummel@culver.edu or 573-288-6000 ext. 6450 for more information.
NOTE: A number that appears immediately after a person's name (i.e. Jane Doe '18) is a reference to the year that person earned their bachelor's degree from Culver-Stockton.