The Advancement Office of Culver-Stockton College has announced its annual scholarship donor event, "24 Hours of Giving," to begin at noon on Thursday, March 16, and go until noon on Friday, March 17, 2023, in the local communities.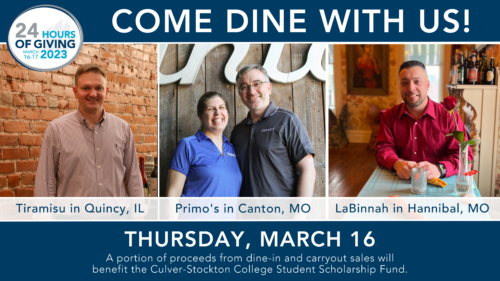 The 24-hour giving campaign, housed primarily on social media, aims to raise $170,000 this year for the Student Scholarship Fund (SSF), which includes a generous $50,000 match from an anonymous donor. Monies will be raised through donor gifts and dining events leading to the 24-hour giving campaign. The College has partnered with alumni business owners for the third year in a row to raise awareness about the importance of the SSF. Patrons who dine on Thursday, March 16, at Primo's in Canton, Missouri, LaBinnah Bistro in Hannibal, Missouri, and Tiramisu in Quincy, Illinois, will benefit C-SC students as a portion of sales made that day will be donated to the Student Scholarship Fund.
New this year, customers who purchase a drink from Electric Fountain Brewing Coffee Bar in Quincy or Hebrews XI Coffee (Taylor or Palmyra, Missouri) during March 13-17 will receive a special sticker on their cups. When scanned, they will be invited to make a gift to the Student Scholarship Fund and enter into a drawing for prizes, including gift cards, coffee, and C-SC promotional items.
Over 90% of students at Culver-Stockton College receive a student scholarship to offset their tuition, and the college is setting aside 24 hours to raise monies for the student scholarship funds. "We are inviting people to connect during dining and on social media, tell their story, and invest in the next generation of Wildcats," said Adam Duesterhaus, Vice President for Advancement.
Supporters can learn more about the events and follow along with the C-SC Wildcat stories on the College's Facebook page at facebook.com/csconthehill. For more information, contact Adam Duesterhaus, Vice President for Advancement, at aduesterhaus@culver.edu.
Attached photo: left to right: Tiramisu co-owner Ilija Cucuk '03, Primo's owners Jarrod '00 and Brenna '02 Phillips, and LaBinnah owner Arif Dagin '10.
Contact Alyssa Hummel, Director of Communications and Marketing, at ahummel@culver.edu or 573-288-6000 ext. 6450 for more information.
NOTE: A number that appears immediately after a person's name (i.e. Jane Doe '18) is a reference to the year that person earned their bachelor's degree from Culver-Stockton.