The Theatre Department of Culver-Stockton College has announced the production of Dolly Parton's "9 to 5 The Musical" from March 30 through April 2 in the Mabee Foundation Little Theatre in the Robert W. Brown Performing Arts Center.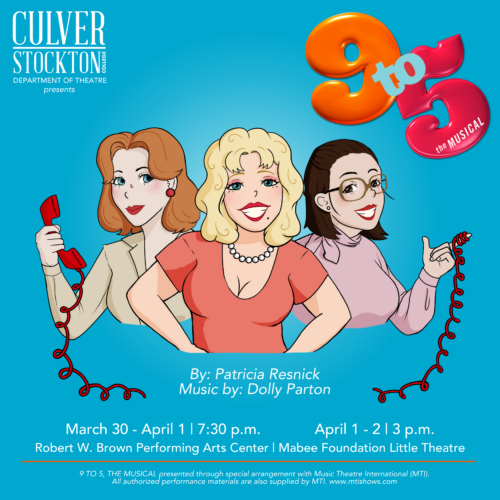 Based on the 1980 hit movie, "9 to 5 The Musical" was written by Patricia Resnick, with music and lyrics by Dolly Parton.  The musical features 22 cast and crew members under the direction of David Lane, Lecturer in Speech and Theatre Education. The musical 9 to 5 tells the hilarious story of friendship and revenge that can be outrageous, thought-provoking, and even a little romantic. Pushed too far by their sexist, egotistical, lying, hypocritical boss (Trevor Pruitt), three female coworkers concoct a plan to get even and give their boss the boot! Violet (Megan Eaton), Judy (Madison Pruitt), and Doralee (Kalista VanDerrAa) create a scheme to give their workplace a makeover and take control of the company that had always kept them down.
Show dates are March 30, 31, and April 1 at 7:30 p.m. with a 3:00 p.m. matinee on Sunday, April 2. Admission to the event is $10 for adults and $5 for students and seniors. Please reserve your tickets on the MyCulver home page following the Get Your Theatre Tickets link. Contact the Fine Arts Office at 573-288-6346 or email at finearts@culver.edu. The production is rated PG-13 for some language, drug use, and sexual innuendo.
Contact Alyssa Hummel, Director of Communications and Marketing, at ahummel@culver.edu or 573-288-6000 ext. 6450 for more information.
NOTE: A number that appears immediately after a person's name (i.e. Jane Doe '18) is a reference to the year that person earned their bachelor's degree from Culver-Stockton.