The Board of Trustees announces Dr. Lauren B. Schellenberger as 28th President of Culver-Stockton College.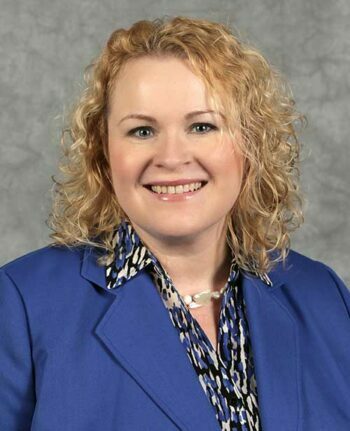 Culver-Stockton College (C-SC) Board of Trustee members unanimously approved Lauren B. Schellenberger, Provost and Vice President for Academic Affairs, to become the 28th president of Culver-Stockton College on July 1, 2023.
"Culver-Stockton College is a place where students of promise experience transformational growth through a distinctive curriculum and outstanding opportunities for student leadership and engagement.  This institution has changed students' lives for the better for the past 170 years, and it is my honor to lead the College as we further our mission," Schellenberger says.
Chair Ron Leftwich '64 and  the board of trustees announced, "We are proud to elect Dr. Schellenberger to the role of president." Leftwich said, "Dr. Schellenberger has displayed exceptional leadership and academic knowledge in her fifteen years with the College and has shown she will be the next great president of C-SC."
Schellenberger began her career at C-SC as an Assistant Professor of Biology while completing her Ph.D. in Biology Education at Purdue University; she has extensive experience in research, teaching, and industry. Administratively, Schellenberger has served the College in executive leadership roles since 2018 and most recently as a chief academic officer in the position of provost. A natural leader, Schellenberger has served on and chaired countless committees since joining C-SC.
H.B. Turner '79, incoming board chair, said, "As we celebrate the 170th year of Culver-Stockton, we look forward to Dr. Schellenberger leading our college into the future. Her in-depth knowledge of Culver-Stockton gives her a head start in developing plans for success."
Schellenberger will succeed Douglas B. Palmer, who served as C-SC's 27th president from July 2020-June 2023. Palmer announced in March he accepted the presidency at Siena Heights University in Adrian, Michigan.
Schellenberger and her husband, Steven, reside in Canton, along with their two sons.
The college will hold a press conference on Thursday, June 1, at 10:00 a.m. in the Johnson-Turner IDEA Center, where Schellenberger will provide remarks and respond to questions pertaining to the presidency. A formal inauguration will be planned for a later date.
"As the first institution west of the Mississippi River to be chartered for co-education, C-SC has been an innovator in higher education since the very beginning," Schellenberger said. "I am proud to lead this forward-thinking campus community, whose focus on transferable skills and experiential learning make our graduates uniquely and supremely prepared for a dynamic world."
Contact Alyssa Hummel, Director of Communications and Marketing, at ahummel@culver.edu or 573-288-6000 ext. 6450 for more information.
NOTE: A number that appears immediately after a person's name (i.e. Jane Doe '18) is a reference to the year that person earned their bachelor's degree from Culver-Stockton.