Culver-Stockton College is proud to announce the promotion and appointment of three staff members to "the Hill." All professionals assumed their new positions on Thursday, July 1.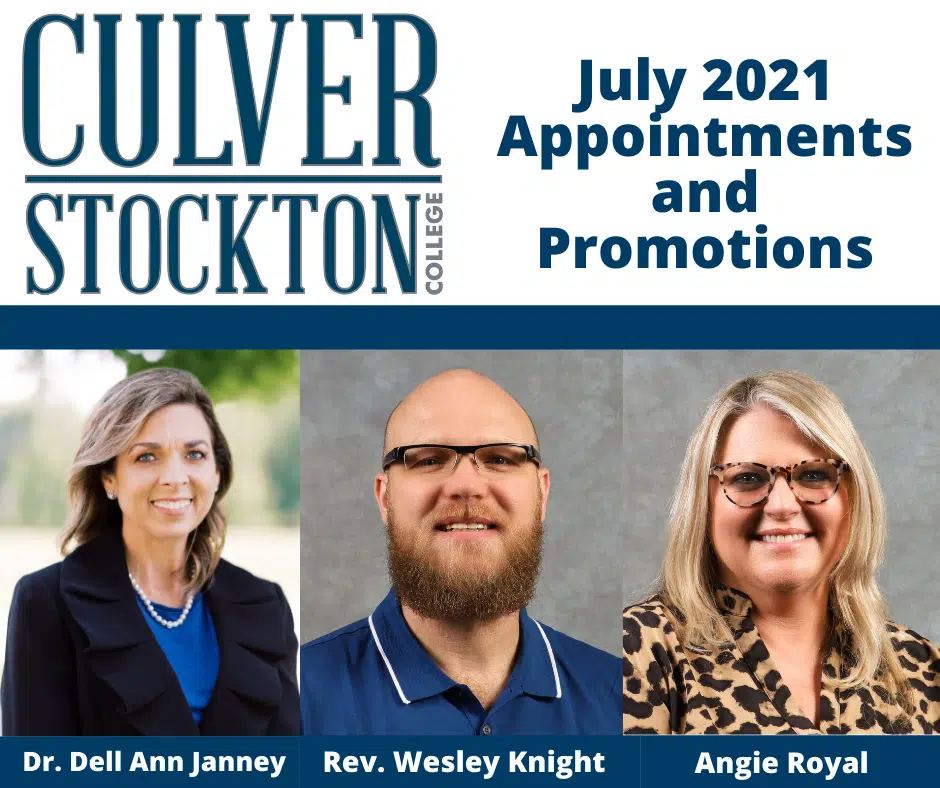 Dr. Dell Ann Janney has been promoted to Dean of Graduate and Professional Studies where she will provide senior level administrative leadership in areas of new graduate and online program development and graduate and online program enrollment management. In addition, Janney oversees career services, instructional technology and related faculty training. Janney has served the College in many roles and shared, "I am delighted to assume the leadership position to advance and grow the college's initiatives in graduate and online studies, which will allow us to focus on in-demand degree programs while preparing graduates to add value  to the needs of business and industry." She has been a member of the C-SC faculty since 1992 and most recently served as the Associate Dean for Experiential Education and External Relations. Janney earned her doctorate from Webster University and resides in Canton with her husband, Jeff.
Angie Royal has joined the C-SC family as the Dean of Student Life. In this role she will serve as the chief student affairs officer and will be instrumental in creating a supportive and inclusive community for all students. She is proud to be joining the long-standing traditions of excellence and stated, "I'm extremely excited to join the C-SC family to lead the charge in creating a transformative engagement experience for our students. I look forward to working with the Student Life team and various departments on campus to provide a supportive environment for students as they navigate their college experience to grow and develop as leaders." Royal came to the College from Lindenwood University where she served as the Director of Student Involvement. She completed her undergraduate and graduate coursework at SIU-Carbondale and is currently working towards her Doctorate of Higher Education through Lindenwood University.
Culver-Stockton College is glad to welcome Rev. Wesley Knight as Chaplain, representing the Christian Church (Disciples of Christ) and providing guidance in faith and inclusion to the College.  Knight will coordinate religious services, provide pastoral care, organize service learning projects, collaborate with area churches, and engage with students preparing for a career in ministry. He received his Master of Divinity at Eden Theological Seminary and most recently served asSenior Pastor at Olivet Christian Church (DOC) in Columbia, Missouri.
Contact Alyssa Hummel, Director of Communications and Marketing, at ahummel@culver.edu or 573-288-6000 ext. 6450 for more information.
NOTE: A number that appears immediately after a person's name (i.e. Jane Doe '18) is a reference to the year that person earned their bachelor's degree from Culver-Stockton.