Culver-Stockton College has been named the #1 college or university in Missouri for getting a job in 2021, according to Zippia, Inc., a California-based national resource website for career information and job placement services.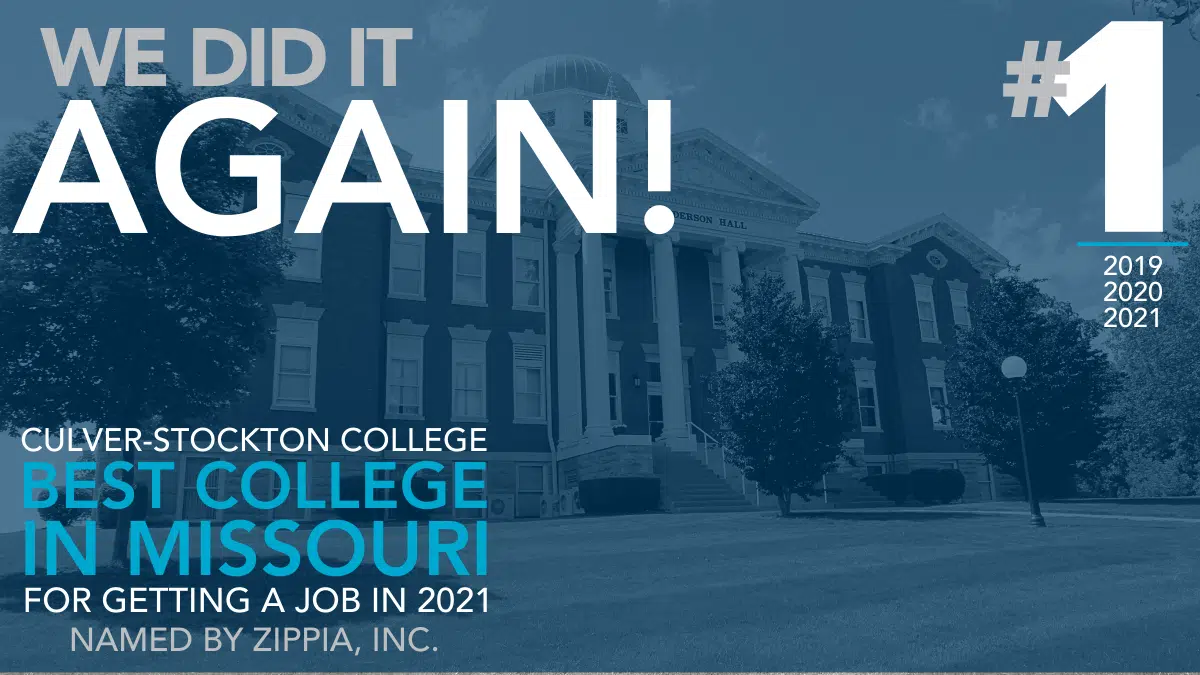 This is the third consecutive year that C-SC has received this prestigious ranking, moving from the number two ranking in Missouri in 2018 for job placement.
President Douglas B. Palmer credits the unique schedule and robust curriculum as leading factors to this repeated prestigious ranking, "Our entire approach to education is to prepare students for the dynamic world of the 21st century. From our unique curriculum focused on providing students real-world experiential learning to our co and extracurricular activities, Culver-Stockton graduates are career-ready for jobs today and for those jobs of tomorrow, which have not yet been created."
The experiences beyond the classroom through internships, real-world problem-solving, simulations and connections to industry leaders and community members contribute to the continuously high placement rates post-graduation. Culver-Stockton has an internal goal that more than 80 percent of its students will complete at least one pre-professional experience during their undergraduate career. Of the 2021 graduating class, 93%  of students completed at least one pre-professional experience, including internship, student teaching, practicum, clinical, professional portfolio development, or research.
Using public data from the U.S. Department of Education's College Scorecard tool (collegescorecard.ed.gov) and the Integrated Postsecondary Education Data System, Zippia searched for the college in each state with the highest listed job placement ratings, looking specifically at employment levels 10 years post graduation. Zippia limited the analysis to the 45 public and nonprofit four-year institutions in Missouri that offer at least a bachelor's degree. For the complete listing of colleges and universities and their job-placement rate, visit zippia.com.
Contact Alyssa Hummel, Director of Communications and Marketing, at ahummel@culver.edu or 573-288-6000 ext. 6450 for more information.
NOTE: A number that appears immediately after a person's name (i.e. Jane Doe '18) is a reference to the year that person earned their bachelor's degree from Culver-Stockton.