The National Society for Experiential Education (NSEE) has awarded Dr. Dell Ann Janney, Dean of Graduate and Professional Studies and Professor of Accounting at Culver-Stockton College (C-SC) in Canton, MO, the 2021 NSEE Outstanding Leader in Experiential Education: Higher Education award. This award recognizes an individual in higher education who has demonstrated innovative uses of experiential learning in their institution.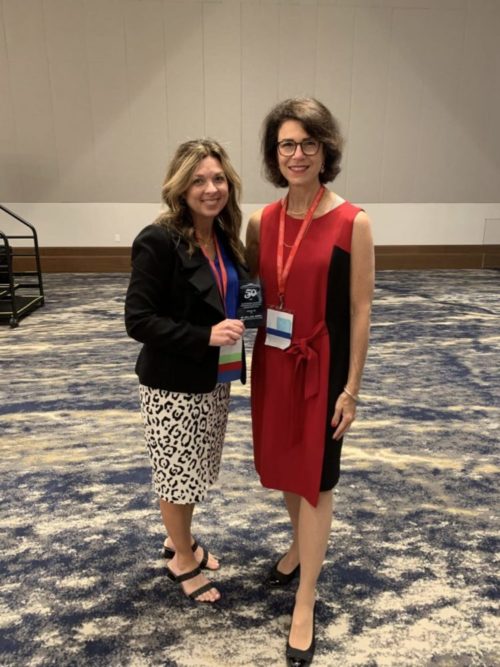 Dr. Janney was presented the award at the 50th Annual NSEE Conference in Orlando, Florida last week. With thirty years in higher education, Dr. Janney oversees the strategic planning for graduate and online programs, instructional technology, and career and internship services.  In Janney's previous role as Associate Dean of Experiential Education, she created the Strategic Plan for Excellence in Experiential Education, which would become the foundation for the Higher Learning Commission Quality Improvement Plan. The Quality Improvement Plan was accomplished including creation and implementation of an assessment plan for experiential education and the launch of the NSEE's Experiential Education Academy (EEA) on C-SC's campus with over 70% of the faculty trained.  The Quality Improvement Plan included the establishment of an Experiential Learning Center, and in the fall of 2021, the Innovation, Design and Experiential Activities (IDEA) Center will open to provide a venue for experiential learning.  In 2017, Dr. Janney completed the NSEE's (EEA) and became a member of the EEA faculty. In 2019, Janney became a member of the EEA Curriculum Committee and taught the Best Practices in Internships workshop at the 2019 conference. In 2020 and 2021, she produced the online offering of Legal Issues in Experiential Education workshop and assisted with the creation of the Producer's Facilitation guide. She re-designed and presented the online offering of the Principles of Ethical & Best Practice workshop in 2021.
The National Society for Experiential Education (NSEE) is a nonprofit membership association of educators, businesses, and community leaders. Founded in 1971, NSEE serves as a national resource center for the development and improvement of experiential education programs nationwide. NSEE supports the use of learning through experience for intellectual development, cross-cultural and global awareness, civic and social responsibility, ethical development, career exploration and personal growth. The mission of the NSEE is to cultivate educators who effectively use experiential education as an integral part of personal, professional, civic and global learning.
Contact Alyssa Hummel, Director of Communications and Marketing, at ahummel@culver.edu or 573-288-6000 ext. 6450 for more information.
NOTE: A number that appears immediately after a person's name (i.e. Jane Doe '18) is a reference to the year that person earned their bachelor's degree from Culver-Stockton.