Culver-Stockton College welcomed alumni and friends to campus on Saturday, September 25, 2021 for a one-day homecoming celebration. Several outdoor events took place including a parade, marching band competition, a variety of reunions, athletic competitions and campus tours.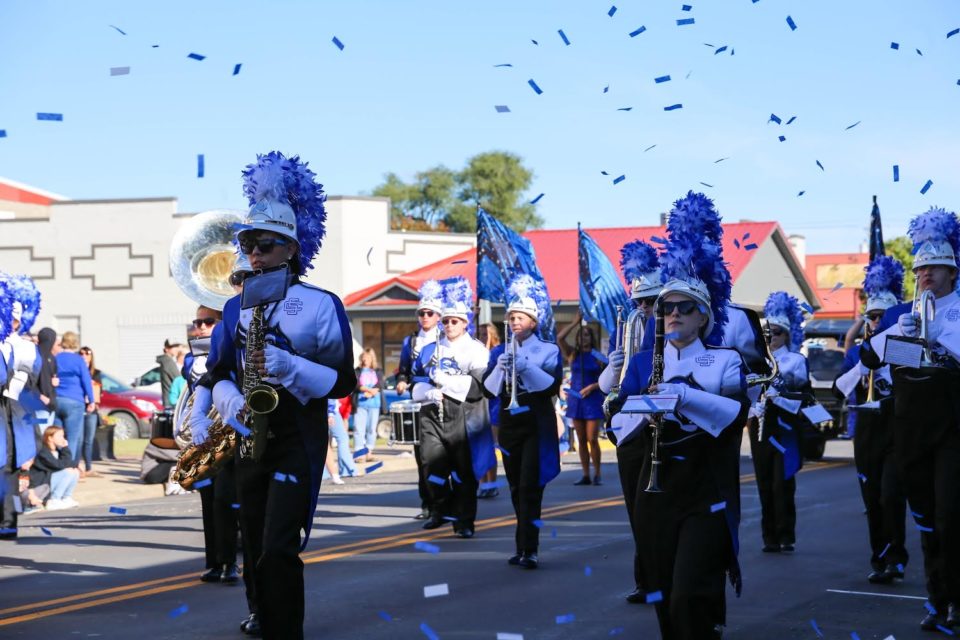 The results of the competitions are provided:
Marching band parade competition and scoring, with a total of 150 points possible:
Junior High Division
1st Place: Canton Junior High School- 97 pts
High School Division
1st Place: Green City High School – 130 pts
2nd Place: Scotland County High School – 129 pts
3rd Place: Palmyra High School – 126 pts
4th Place: Highland High School – 121 pts
5th Place: Canton High School – 115 pts
6th Place: Payson-Seymour High School – 102 pts
7th Place: Knox County High School – 100 pts
Homecoming Coronation took place during halftime of the football game where representatives of each class and a member of faculty and staff were crowned. The winners in each category below
were voted on and selected by current C-SC students.
Freshman Prince: Noah Crenshaw (Hometown: Canton, Missouri)
Freshman Princess: Jaden Griffin (Hometown: Lenexa, Kansas)
Sophomore Prince: Sam Morgan (Hometown: Columbia, Illinois)
Sophomore Princess: Morgan Broadwell (Hometown: Carthage, Iowa)
Junior Prince: Ahmed Barrow (Hometown: St. Louis, Missouri)
Junior Princess: Trinity Burton (Hometown: LaHarpe, Illinois)
Homecoming King: Max Blaschke (Hometown: Maple Plain, Minnesota)
Homecoming Queen: Grace Preston (Hometown: Taylor Ridge, Illinois)
Faculty and Staff Royalty: Angie Royal (Dean of Students) and Bill Boxdorfer (Director of Student Engagement)
The annual homecoming parade was sponsored by Primo's, who provided gift certificates to the winning entries. Float winners were based on workmanship, parade theme, and originality. Winners were:
1st Place: Jeff Whiston, Farm Bureau
2nd Place: Homebank
3rd Place: Lewis County Nursing Home
Contact Alyssa Hummel, Director of Communications and Marketing, at ahummel@culver.edu or 573-288-6000 ext. 6450 for more information.
NOTE: A number that appears immediately after a person's name (i.e. Jane Doe '18) is a reference to the year that person earned their bachelor's degree from Culver-Stockton.