Culver-Stockton College's Department of Theatre is pleased to welcome audiences to campus for their first show of the season, a production of The Dining Room by A.R. Gurney. The show will include three performances, beginning Thursday, September 22, and concluding on Sunday, September 25, 2022.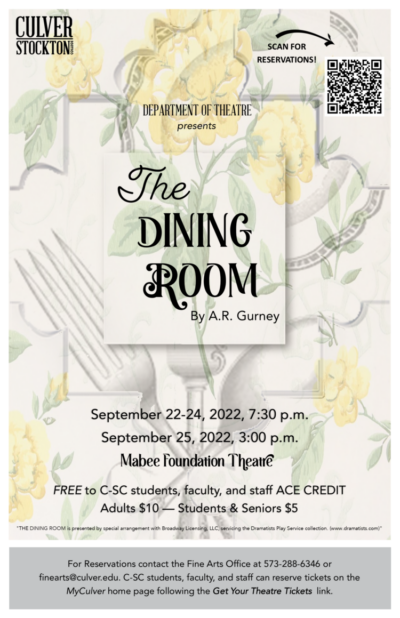 In the dining room of a typical well-to-do household, this comedy of manners comprises a mosaic of interrelated scenes with settings ranging from the 1920s through the 1970s- some funny, some touching, some rueful. The actors change roles, personalities, and ages as they portray a wide variety of characters. Each vignette introduces a new set of people and events. Intermingling swiftly and smoothly, the varied scenes blend into a theatrical experience of exceptional range, compassionate humor, and abundant humanity in A.R. Gurney's The Dining Room.
Performances will begin at 7:30 p.m. on September 22-September 24 and a 3 p.m. matinee on Sunday, September 25, in the Robert W. Brown Performing Arts Center. This production is directed by David Lane, Lecturer of Speech and Theatre Education, with production design by Andy Trusley, Assistant Professor of Theatre.
Admission is free to C-SC students, faculty, and staff. Admission for the public is $10 for adults and $5 for students and seniors. For more information or to purchase a ticket, please contact the box office at 573-288-6346.
For further information or reservations, please contact the fine arts office at 573-288-6346 or finearts@culver.edu. C-SC students, faculty, and staff can reserve tickets on the MyCulver home page following the Get Your Theatre Tickets link.
Contact Alyssa Hummel, Director of Communications and Marketing, at ahummel@culver.edu or 573-288-6000 ext. 6450 for more information.
NOTE: A number that appears immediately after a person's name (i.e. Jane Doe '18) is a reference to the year that person earned their bachelor's degree from Culver-Stockton.