The Culver-Stockton College Office of Financial Aid will host two FAFSA (Free Application for Federal Student Aid) filing nights to assist students and families financially preparing to attend college during the 2023-2024 academic year. The filing nights are November 30, 2022, and January 18, 2023, from 4-7 p.m., each taking place in Herrick Room 207 at Culver-Stockton College.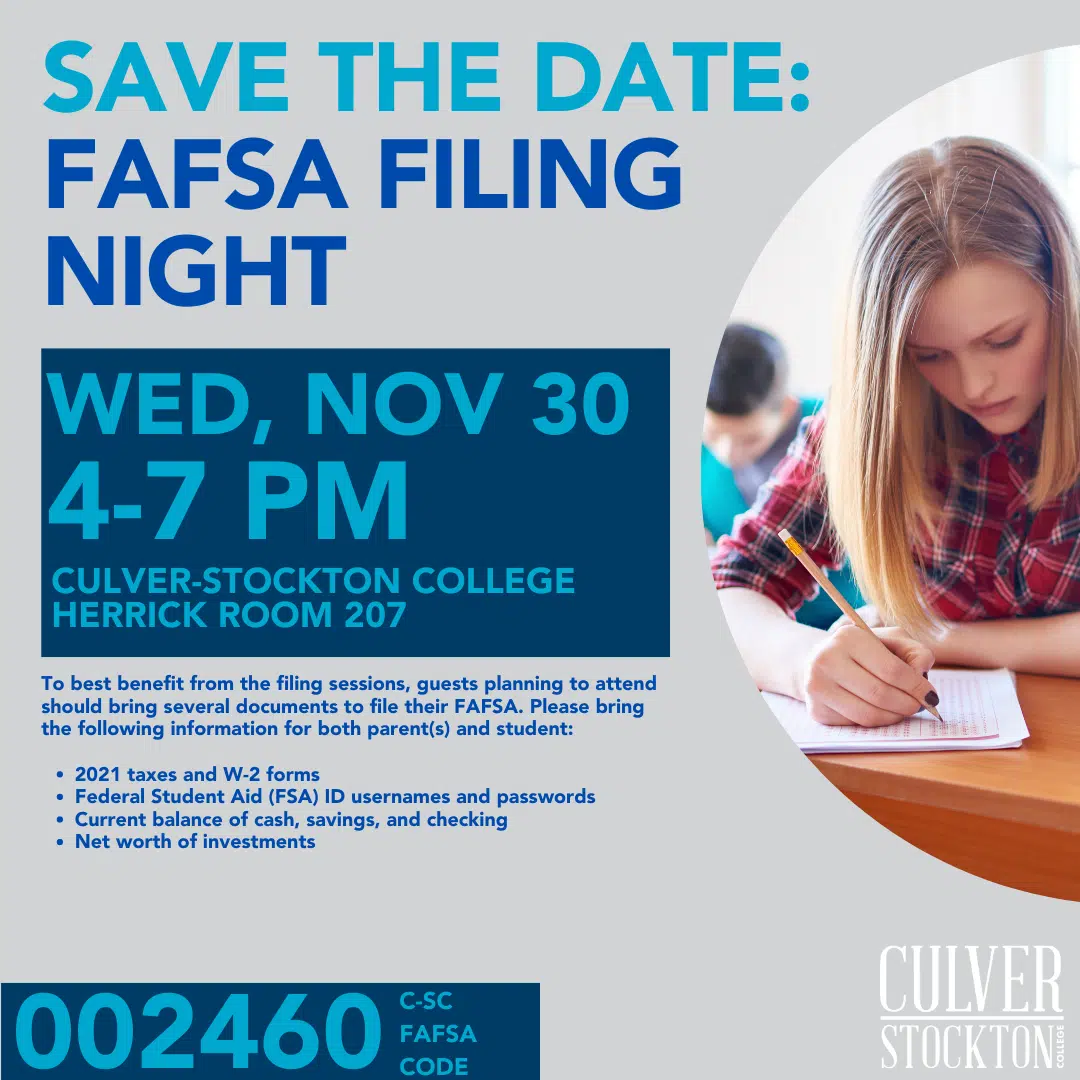 Students and community members are invited to receive FAFSA assistance, regardless of which institution they or their students plan to attend. C-SC Financial Aid staff members will be conducting drop-in sessions to assist with filing the 2023-24 FAFSA. Any student planning to attend college must submit a FAFSA when requesting financial assistance and is therefore encouraged to attend a financial aid night.
An hour before the start of the November session, the Education Department will sponsor a financial literacy workshop allowing current C-SC students to receive ACE credit.
To best benefit from the filing sessions, guests planning to attend should bring several documents to file their FAFSA. Please bring the following information for both parent(s) and student:
2021 taxes and W-2 forms

Federal Student Aid (FSA) ID usernames and passwords

Current balance of cash, savings, and checking

Net worth of investments
Guests are not required to register for this drop-in event and may come and go as their schedule allows. For any questions regarding this community event, please contact Patti Mathieson, Associate Director of Financial Aid, at pmathieson@culver.edu or by phone at 573-288-6000 x6465.
Contact Alyssa Hummel, Director of Communications and Marketing, at ahummel@culver.edu or 573-288-6000 ext. 6450 for more information.
NOTE: A number that appears immediately after a person's name (i.e. Jane Doe '18) is a reference to the year that person earned their bachelor's degree from Culver-Stockton.