Culver-Stockton College is pleased to publish the academic honors list for spring 2022. This semester, C-SC named 100 students to the Honor Roll, recognizing their academic achievement at the College. Requirements of the Honor Roll are as follows: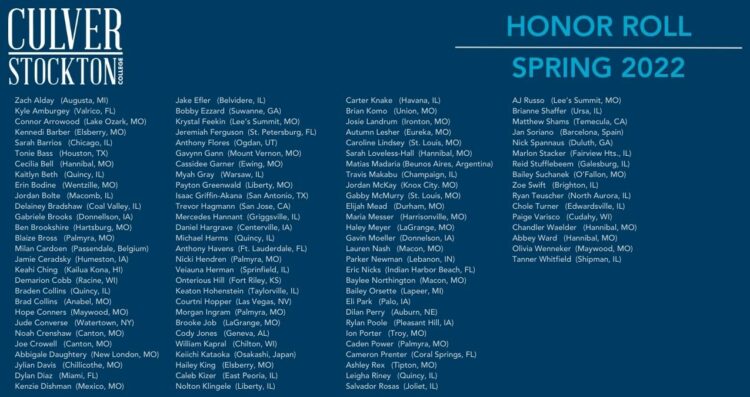 A student was enrolled in and completed at least 12 semester hours.

A student earned a grade point average between 3.2 and 3.49.

Courses offered on a satisfactory/unsatisfactory or pass/fail basis do not count toward graded credit.
Spring 2022 Honors List at Culver-Stockton College
Zach Alday (Augusta, MI)
Kyle Amburgey (Valrico, FL)
Connor Arrowood (Lake Ozark, MO)
Kennedi Barber (Elsberry, MO)
Sarah Barrios (Chicago, IL)
Tonie Bass (Houston, TX)
Cecilia Bell (Hannibal, MO)
Kaitlyn Beth (Quincy, IL)
Erin Bodine (Wentzille, MO)
Jordan Bolte (Macomb, IL)
Delainey Bradshaw (Coal Valley, IL)
Gabriele Brooks (Donnellson, IA)
Ben Brookshire (Hartsburg, MO)
Blaize Bross (Palmyra, MO)
Milan Cardoen (Passendale, Belgium)
Jamie Ceradsky (Humeston, IA)
Keahi Ching (Kailua Kona, HI)
Demarion Cobb (Racine, WI)
Braden Collins (Quincy, IL)
Brad Collins (Anabel, MO)
Hope Conners (Maywood, MO)
Jude Converse (Watertown, NY)
Noah Crenshaw (Canton, MO)
Joe Crowell (Canton, MO)
Abbigale Daughtery (New London, MO)
Jylian Davis (Chillicothe, MO)
Dylan Diaz (Miami, FL)
Kenzie Dishman (Mexico, MO)
Jake Efler (Belvidere, IL)
Bobby Ezzard (Suwanne, GA)
Krystal Feekin (Lee's Summit, MO)
Jeremiah Ferguson (St. Petersburg, FL)
Anthony Flores (Ogdan, UT)
Gavynn Gann (Mount Vernon, MO)
Cassidee Garner (Ewing, MO)
Myah Gray (Warsaw, IL)
Payton Greenwald (Liberty, MO)
Isaac Griffin-Akana (San Antonio, TX)
Trevor Hagmann (San Jose, CA)
Mercedes Hannant (Griggsville, IL)
Daniel Hargrave (Centerville, IA)
Michael Harms (Quincy, IL)
Anthony Havens (Ft. Lauderdale, FL)
Nicki Hendren (Palmyra, MO)
Veiauna Herman (Sprinfield, IL)
Onterious Hill (Fort Riley, KS)
Keaton Hohenstein (Taylorville, IL)
Courtni Hopper (Las Vegas, NV)
Morgan Ingram (Palmyra, MO)
Brooke Job (LaGrange, MO)
Cody Jones (Geneva, AL)
William Kapral (Chilton, WI)
Keiichi Kataoka (Osakashi, Japan)
Hailey King (Elsberry, MO)
Caleb Kizer (East Peoria, IL)
Nolton Klingele (Liberty, IL)
Carter Knake (Havana, IL)
Brian Komo (Union, MO)
Josie Landrum (Ironton, MO)
Autumn Lesher (Eureka, MO)
Caroline Lindsey (St. Louis, MO)
Sarah Loveless-Hall (Hannibal, MO)
Matias Madaria (Beunos Aires, Argentina)
Travis Makabu (Champaign, IL)
Jordan McKay (Knox City. MO)
Gabby McMurry (St. Louis, MO)
Elijah Mead (Durham, MO)
Maria Messer (Harrisonville, MO)
Haley Meyer (LaGrange, MO)
Gavin Moeller (Donnelson, IA)
Lauren Nash (Macon, MO)
Parker Newman (Lebanon, IN)
Eric Nicks (Indian Harbor Beach, FL)
Baylee Northington (Macon, MO)
Bailey Orsette (Lapeer, MI)
Eli Park (Palo, IA)
Dilan Perry (Auburn, NE)
Rylan Poole (Pleasant Hill, IA)
Ion Porter (Troy, MO)
Caden Power (Palmyra, MO)
Cameron Prenter (Coral Springs, FL)
Ashley Rex (Tipton, MO)
Leigha Riney (Quincy, IL)
Salvador Rosas (Joliet, IL)
AJ Russo (Lee's Summit, MO)
Brianne Shaffer (Ursa, IL)
Matthew Shams (Temecula, CA)
Jan Soriano (Barcelona, Spain)
Nick Spannaus (Duluth, GA)
Marlon Stacker (Fairview Hts., IL)
Reid Stufflebeem (Galesburg, IL)
Bailey Suchanek (O'Fallon, MO)
Zoe Swift (Brighton, IL)
Ryan Teuscher (North Aurora, IL)
Chole Turner (Edwardsville, IL)
Paige Varisco (Cudahy, WI)
Chandler Waelder (Hannibal, MO)
Abbey Ward (Hannibal, MO)
Olivia Wenneker (Maywood, MO)
Tanner Whitfield (Shipman, IL)
Contact Alyssa Hummel, Director of Communications and Marketing, at ahummel@culver.edu or 573-288-6000 ext. 6450 for more information.
NOTE: A number that appears immediately after a person's name (i.e. Jane Doe '18) is a reference to the year that person earned their bachelor's degree from Culver-Stockton.