Culver-Stockton College is pleased to publish the academic honors list for spring 2022. The largest group honored, C-SC named 149 students to the Provost's List, the second-highest level of academic distinction at the College. Requirements of the Provost's List are as follows: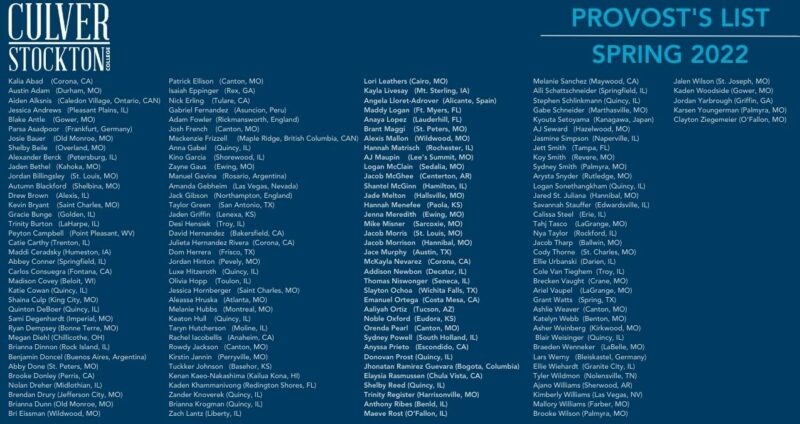 A student was enrolled in and completed at least 12 semester hours.

A student earned a grade point average between 3.5 and 3.99.

Courses offered on a satisfactory/unsatisfactory or pass/fail basis do not count toward graded credit.
Spring 2022 Provost's List at Culver-Stockton College
Kalia Abad (Corona, CA)
Austin Adam (Durham, MO)
Aiden Alksnis (Caledon Village, Ontario, Canada)
Jessica Andrews (Pleasant Plains, IL)
Blake Antle (Gower, MO)
Parsa Asadpoor (Frankfurt, Germany)
Josie Bauer (Old Monroe, MO)
Shelby Beile (Overland, MO)
Alexander Berck (Petersburg, IL)
Jaden Bethel (Kahoka, MO)
Jordan Billingsley (St. Louis, MO)
Autumn Blackford (Shelbina, MO)
Drew Brown (Alexis, IL)
Kevin Bryant (Saint Charles, MO)
Gracie Bunge (Golden, IL)
Trinity Burton (LaHarpe, IL)
Peyton Campbell (Point Pleasant, WV)
Catie Carthy (Trenton, IL)
Maddi Ceradsky (Humeston, IA)
Abbey Conner (Springfield, IL)
Carlos Consuegra (Fontana, CA)
Madison Covey (Beloit, WI)
Katie Cowan (Quincy, IL)
Shaina Culp (King City, MO)
Quinton DeBoer (Quincy, IL)
Sami Degenhardt (Imperial, MO)
Ryan Dempsey (Bonne Terre, MO)
Megan Diehl (Chillicothe, OH)
Brianna Dinnon (Rock Island, IL)
Benjamin Doncel (Buenos Aires, Argentina)
Abby Done (St. Peters, MO)
Brooke Donley (Perris, CA)
Nolan Dreher (Midlothian, IL)
Brendan Drury (Jefferson City, MO)
Brianna Dunn (Old Monroe, MO)
Bri Eissman (Wildwood, MO)
Patrick Ellison (Canton, MO)
Isaiah Eppinger (Rex, GA)
Nick Erling (Tulare, CA)
Gabriel Fernandez (Asuncion, Peru)
Adam Fowler (Rickmansworth, England)
Josh French (Canton, MO)
Mackenzie Frizzell (Maple Ridge, British
Columbia, Canada)
Anna Gabel (Quincy, IL)
Kino Garcia (Shorewood, IL)
Zayne Gaus (Ewing, MO)
Manuel Gavina (Rosario, Argentina)
Amanda Gebheim (Las Vegas, Nevada)
Jack Gibson (Northampton, England)
Taylor Green (San Antonio, TX)
Jaden Griffin (Lenexa, KS)
Desi Hensiek (Troy, IL)
David Hernandez (Bakersfield, CA)
Julieta Hernandez Rivera (Corona, CA)
Dom Herrera (Frisco, TX)
Jordan Hinton (Pevely, MO)
Luxe Hitzeroth (Quincy, IL)
Olivia Hopp (Toulon, IL)
Jessica Hornberger (Saint Charles, MO)
Aleassa Hruska (Atlanta, MO)
Melanie Hubbs (Montreal, MO)
Keaton Hull (Quincy, IL)
Taryn Hutcherson (Moline, IL)
Rachel Iacobellis (Anaheim, CA)
Rowdy Jackson (Canton, MO)
Kirstin Jannin (Perryville, MO)
Tuckker Johnson (Basehor, KS)
Kenan Kaeo-Nakashima (Kailua Kona, HI)
Kaden Khammanivong (Redington Shores, FL)
Zander Knoverek (Quincy, IL)
Brianna Krogman (Quincy, IL)
Zach Lantz (Liberty, IL)
Lori Leathers (Cairo, MO)
Kayla Livesay (Mt. Sterling, IA)
Angela Lloret-Adrover (Alicante, Spain)
Maddy Logan (Ft. Myers, FL)
Anaya Lopez (Lauderhill, FL)
Brant Maggi (St. Peters, MO)
Alexis Mallon (Wildwood, MO)
Hannah Matrisch (Rochester, IL)
AJ Maupin (Lee's Summit, MO)
Logan McClain (Sedalia, MO)
Jacob McGhee (Centerton, AR)
Shantel McGinn (Hamilton, IL)
Jade Melton (Hallsville, MO)
Hannah Menefee (Paola, KS)
Jenna Meredith (Ewing, MO)
Mike Misner (Sarcoxie, MO)
Jacob Morris (St. Louis, MO)
Jacob Morrison (Hannibal, MO)
Jace Murphy (Austin, TX)
McKayla Nevarez (Corona, CA)
Addison Newbon (Decatur, IL)
Thomas Niswonger (Seneca, IL)
Slayton Ochoa (Wichita Falls, TX)
Emanuel Ortega (Costa Mesa, CA)
Aaliyah Ortiz (Tucson, AZ)
Noble Oxford (Eudora, KS)
Orenda Pearl (Canton, MO)
Sydney Powell (South Holland, IL)
Anyssa Prieto (Escondido, CA)
Donovan Prost (Quincy, IL)
Jhonatan Ramirez Guevara(Bogota, Columbia)
Elaysia Rasmussen (Chula Vista, CA)
Shelby Reed (Quincy, IL)
Trinity Register (Harrisonville, MO)
Anthony Ribes (Benld, IL)
Maeve Rost (O'Fallon, IL)
Melanie Sanchez (Maywood, CA)
Alli Schattschneider (Springfield, IL)
Stephen Schlinkmann (Quincy, IL)
Gabe Schneider (Marthasville, MO)
Kyouta Setoyama (Kanagawa, Japan)
AJ Seward (Hazelwood, MO)
Jasmine Simpson (Naperville, IL)
Jett Smith (Tampa, FL)
Koy Smith (Revere, MO)
Sydney Smith (Palmyra, MO)
Arysta Snyder (Rutledge, MO)
Logan Sonethangkham (Quincy, IL)
Jared St. Juliana (Hannibal, MO)
Savannah Stauffer (Edwardsville, IL)
Calissa Steel (Erie, IL)
Tahj Tasco (LaGrange, MO)
Nya Taylor (Rockford, IL)
Jacob Tharp (Ballwin, MO)
Cody Thorne (St. Charles, MO)
Ellie Urbanski (Darien, IL)
Cole Van Tieghem (Troy, IL)
Brecken Vaught (Crane, MO)
Ariel Vaupel (LaGrange, MO)
Grant Watts (Spring, TX)
Ashlie Weaver (Canton, MO)
Katelyn Webb (Benton, MO)
Asher Weinberg (Kirkwood, MO)
Blair Weisinger (Quincy, IL)
Braeden Wenneker (LaBelle, MO)
Lars Werny (Bleiskastel, Germany)
Ellie Wiehardt (Granite City, IL)
Tyler Wildmon (Nolensville, TN)
Ajano Williams (Sherwood, AR)
Kimberly Williams (Las Vegas, NV)
Mallory Williams (Farber, MO)
Brooke Wilson (Palmyra, MO)
Jalen Wilson (St. Joseph, MO)
Kaden Woodside (Gower, MO)
Jordan Yarbrough (Griffin, GA)
Karsen Youngerman (Palmyra, MO)
Clayton Ziegemeier (O'Fallon, MO)
Contact Alyssa Hummel, Director of Communications and Marketing, at ahummel@culver.edu or 573-288-6000 ext. 6450 for more information.
NOTE: A number that appears immediately after a person's name (i.e. Jane Doe '18) is a reference to the year that person earned their bachelor's degree from Culver-Stockton.